Information about Chile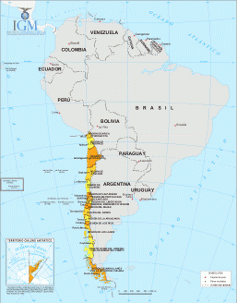 In a world of constant change, Chile is a beacon of economic and institutional stability:
Chile is at the forefront of Latin America and ranks alongside the most advanced economies in the world.
The economy has one of the world's most business-friendly environments and has attracted a large number of well-known multinational and foreign investors with its open and competitive economy.
The economic framework includes an independent Central Bank, whose monetary policy is carried out based on an inflation-targeting regime, coupled with a free-floating exchange rate
A solid banking system, based on a sound regulatory framework, also helps to reduce domestic economic volatility.
Chile is one of the most open and integrated economies in the world, with trade agreements with more than 50 economies.
Chile has also made remarkable progress reducing poverty: since 1990 it has slashed its poverty rate to 13% from over 40% in the early 90s.
Reflecting these institutional strengths, Chile became the first South American country to become a member of the OECD.
Information about Chile

Total population
19,923,000 (2021 est.)
Capital
Santiago de Chile
Population, Capital
7,564,857 (2018 est.)
Official language
Spanish
Form of government
Representative democracy
President
Gabriel Boric
GDP 2018 est. (nominal)(1)
• Total (in millions)
• Per capita GDP
• Per capita GDP (based PPP)

US$ 316,864
US$ 16,069
US$ 26,713
Human Development Index (HDI) (2)
0.847 (Very High)
Currency
Chilean peso ($, CLP)
Nationality
Chilean
Internet suffix
.cl
Country long distance telephone code
56
ISO Code
152 / CHL / CL
(1) Source: World Economic Outlook Database, April 2022.
(2) HDI is a comparative measure of life expectancy, literacy, education and standards of living for countries worldwide. It is used to distinguish whether the country is a developed, a developing or an under-developed country, and also to measure the impact of economic policies on quality of life.